Hair in the intimate area in women
Pubic hair in the bikini and intimate area
Especially in the intimate area, hair can be very unplesant. During the summer, when wearing a bikini or skimpy underwear, they become visible and can affect self-confidence. They are often hard to miss even at the swimming pool or the beach. Figuring out the best way to manage them can be a challenge. It's important to find a solution that suits you, ensuring a comfortable feeling and a confident appearance.
Removing hair in the intimate zone is trendy
For more than 20 years a trend among women: a smooth and hair-free bikini line and intimate area. The first thing that had to disappear were hairs in the bikini area. Understandable, because hair that peeks out from the sides of the bikini or swimsuit does not give an aesthetic image. The trend expanded and more and more women are now depilating the intimate area as well.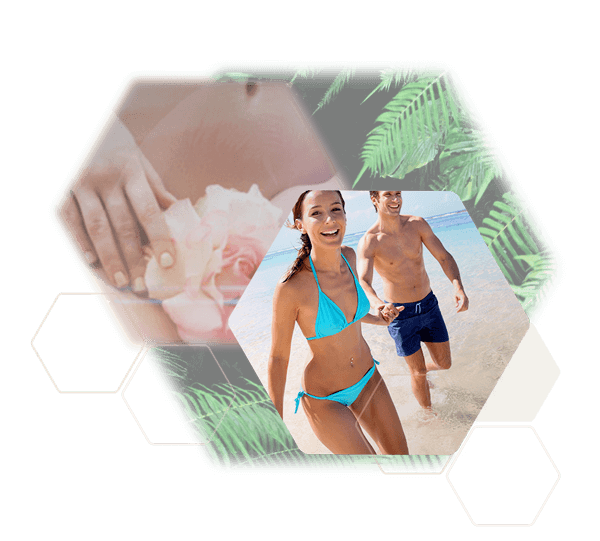 What happens to the hair?
There are several possibilities. From severe reduction of hair to complete removal, you can also find many intermediate forms. The most common method is shaving however after a short time stubble is formed which has nothing to do with aesthetics. Longer results can be achieved by waxing, but even here a repetition every 4 weeks is necessary. A painless and permanent solution is hair removal with light, which is becoming more and more popular. Enjoy the benefit of an aesthetic appearance at all times.
Intimate hair removal is hygienic
That is why hygiene is important
The bikini line and the intimate area are among the most sensitive areas of the body. For this reason, special care must be taken here, including hygiene. Poor hygiene can lead to accumulation of bacteria, which in turn can lead to inflammation, reddening of the skin or similar unpleasant phenomena. Bacteria can adhere especially well to hair. That's why hair removal in this area makes sense, so that bacteria are not given any room.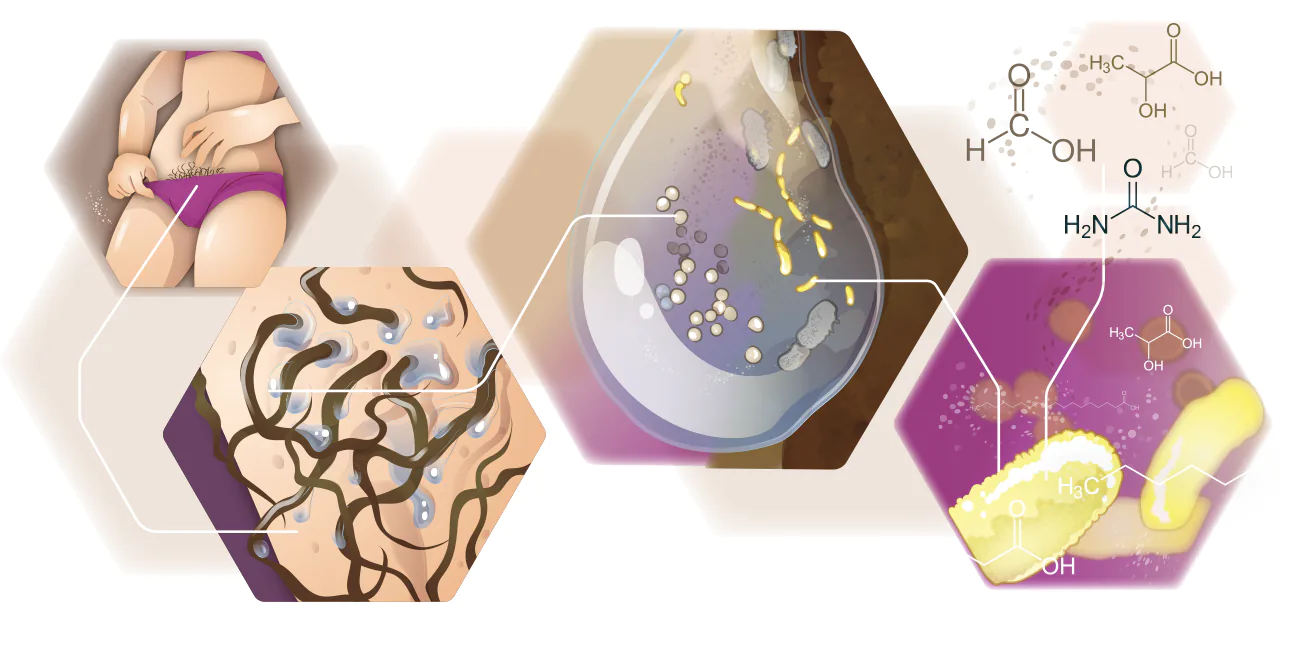 Get rid of intimate hair permanently* without shaving
Unwanted hairs are a thing of the past with our permanent hair removal* using light. You can feel free in any daily situation. Especially in swimming pools and saunas you can relax carefree. Particularly in hard-to-reach areas, we can offer you a solution. Photoepilation in the form of IPL, SHR or laser hair removal is the best choice and can provide you with ideal results.
Is this the easiest way to get rid of hair in the inti­mate area?
No pain, no irritation
Different hair removal methods are available to a woman and the intimate area can be waxed, shaved or treated with depilatory creams – although these are usually not intended for sensitive skin areas due to their skin irritating properties. Irrespective of the risk of injury and the possibility of causing skin irritation, these methods are only temporary. With a depilation treatment by photoepilation, repeated shaving or waxing is a thing of the past and your skin is permanently* free of hair.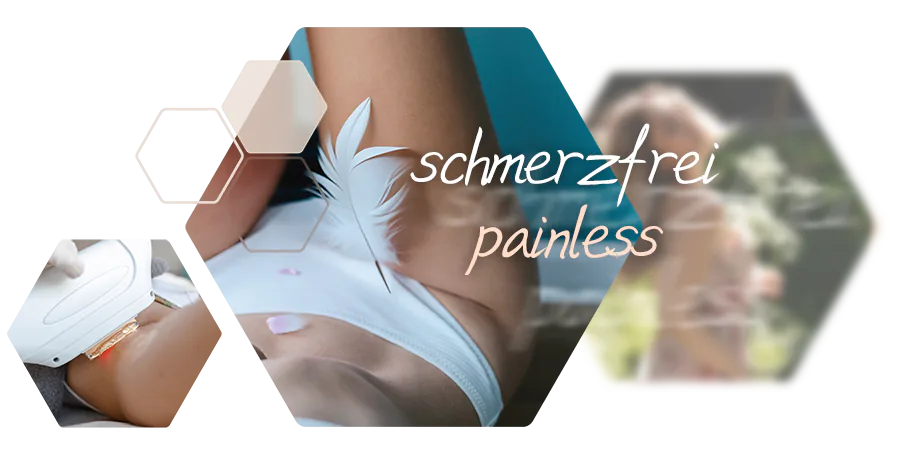 The best method for a hair­free in­timate area
Shaving and pain are a thing of the past
There are many options for intimate and bikini area hair removal, but most of them are temporary with unsightly side effects. The intimate area and bikini line are considered sensitive and difficult regions for hair removal. With methods such as sugaring or waxing, skin damage or severe pain can occur. With shaving, the skin becomes irritated. Turn your back on these methods.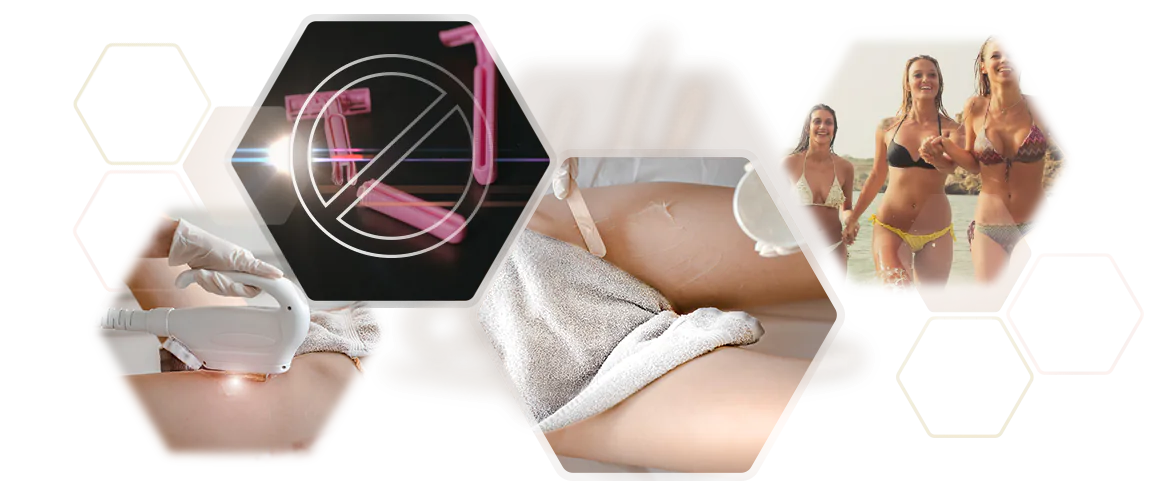 Put an end to itching
Traditional hair removal methods can cause major problems, such as ingrown hairs, pimples and itching. Furthermore, inflammation can occur in sensitive areas due to dirt particles that have settled in the hair. Therefore, not only aesthetics play a role in this area, but also hygiene. Professional photoepilation is the optimal solution so that you feel completely clean and comfortable in this area. Discretion is the top priority of our professional staff. Arrange a free consultation in Frankfurt and get to know more about the permanent* removal of pubic hair.